This wine will be your 'go-to' all summer long!
Refreshing but complex, it is a super pretty medium copper color; with tangerine, peach, mango on the nose;
& strawberry, watermelon, pineapple, kiwi, citrus on the palate.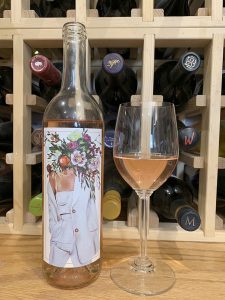 Dry; refreshing, crisp acidity. Light, delicate in the mouth. Nicely stretched-out finish. Drinks like a Provence rosé, but with more weight in the mouth. Syrah is the lead grape.
Goose Ridge Estate Vineyard is one of Washington State's premier vineyards, producing some of the finest wines in the United States.
The grapes come from a remarkable 2,200-acre estate vineyard, located on a gently sloped site near Benton City known as "Goose Gap" not far from the famed Red Mountain AVA.
Wine grapes in the Goose Gap AVA flourish under long hot days, cool nights and minimal rainfall during the growing season.
Taking the remarkable palate provided by Mother Nature, we amplify it with an unwavering commitment to modern vineyard management and sustainable farming practices.
Vineyards are managed for low yields to ensure intense, complex flavors and exceptional quality.
The Monson family owns Pacific Ridge, one of the largest vineyards in the Pacific Northwest.